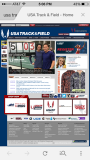 Step 1- Go to USA Track and field website (usatf.org) and click on the Join/Renew Now button in the top right hand corner. Next, click on the "For Individual Members" button. Fill out all the information, and don't forget to list Ultimate Air as your USATF registered club. New youth membership is $20 for the entire year. When finished, print off proof of membership and bring with you to your first session. Please call if you have problems with this first step.
---

Step 2-
Email your name and contact information to
ultimateairclub@gmail.com
. We will then send you information about sessions and special training days. Also, a special
liability release
form will be sent for the parents to sign and bring with the proof of USATF membership. Once the first two steps are completed, the vaulter is ready to get started.
---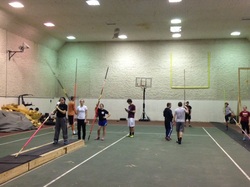 Step 3- Lastly, the athlete will need to decide on what program they are interested in. We offer 3 different options for the athlete to choose

Beginners - We offer 1 on 1, 1 on 2, and 1 on 3 special private practice session. These are designed to teach the basics of pole vaulting to those with minimal knowledge. Private sessions are 2 hours in length and will allow the athlete to start vaulting with proper technique and in a safe way. We strongly recommend these private sessions prior to coming to an Open Vault night.


1 on 1 session - $40/2 hours session (Group pricing for 2-3 vaulters, email for prices)


Special Practice Session- (Camp style learning) These are special 1 to 2 day special practice sessions for beginners to more expert vaulters. These will be ran at different times of the year. You can check this website or email for upcoming events.

Introduction to Vault practice session- Details coming soon!! Free practice session, but must be a member of USATF. If interested, please email us.


Open Vault Night- This is our weekly or bi-weekly 2 hour practice sessions we hold weekly. Sunday and Thursday evenings from 7-9pm is our regularly scheduled night. THIS IS FOR EXPERIENCED VAULTERS, NOT FOR FIRST TIME VAULTERS. We offer additional nights during the week when the season gets close. These sessions are open to all ages of vaulters and 1-2 coaches are there at all times teaching and helping jumpers at whatever level they are currently at. Cost for Open Vault Night is $15.














---